Heads or tails - toss the Pound sterling
The pound sterling (symbol: £; ISO code: GBP), commonly known as the pound and less commonly referred to as sterling, is the official currency of the United Kingdom, Jersey, Guernsey, the Isle of Man, South Georgia and the South Sandwich Islands, the British Antarctic Territory, and Tristan da Cunha. It is subdivided into 100 pence (singular: penny, abbreviated: p). A number of nations that do not use sterling also have currencies called the pound.
Sterling is the fourth most-traded currency in the foreign exchange market, after the United States dollar, the euro, and the Japanese yen.[14] Together with those three currencies and the Chinese yuan, it forms the basket of currencies which calculate the value of IMF special drawing rights. Sterling is also the third most-held reserve currency in global reserves (about 4%).
The British Crown dependencies of Guernsey, Jersey and the Isle of Man produce their own local issues of sterling (the Guernsey pound, the Jersey pound and the Manx pound) which are considered fully equivalent to UK sterling in their respective regions.[16] The pound sterling is also used in Gibraltar (alongside the Gibraltar pound), the Falkland Islands (alongside the Falkland Islands pound), Saint Helena and Ascension Island in Saint Helena, Ascension and Tristan da Cunha (alongside the Saint Helena pound). The Bank of England is the central bank for the pound sterling, issuing its own banknotes, and regulating issuance of banknotes by private banks in Scotland and Northern Ireland. Banknotes issued by other jurisdictions are not regulated by the Bank of England; local governments use Bank of England notes as backing for local issuance by allowing them to be exchanged 1:1 at face value.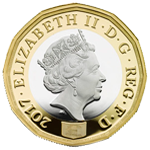 Coins was tossed
8360
times
Change currency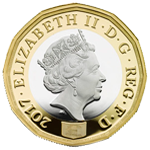 Head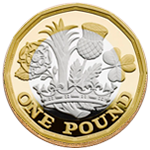 Tail